Logging
Paul J. Mitchell's, of Tupper Lake, New York, logging operation is SFI certified, FSC® Certified and Certified Master Loggers (C017399). In 2011, we were awarded The National Outstanding Logger award from the Forest Resources Association. Winning awards and being certified is more than a piece of paper or a plaque - it's exceeding customer's expectations since 1986.
Evolving from a small conventional logging venture to a fully mechanized in-woods clean chipping operation that produces and hauls an estimated 60 loads per week, or an estimated 2300 tons, to five diverse markets and employs 24 full time crew members and staff.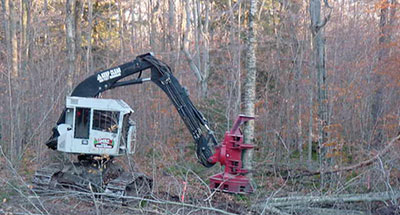 Through The Trust to Conserve Northeast Forestlands We have received our Master Logger Certification. (April 2010)
Northeast Master Loggers are the only loggers whose work receives an independent and internationally recognized third party certification.
We have recently (Jan. 2011 also through TCNF received our FSC® Group Chain of Custody Certification (C017399).
Our clean chips supply feed stock for the paper industry, wood pellet industry, and specialty cellulose industry. Our many years of logging experience allows for fast, professional service at reasonable prices. We work on medium to large private and industrial lands. We offer selective cutting, thinning and overstory removal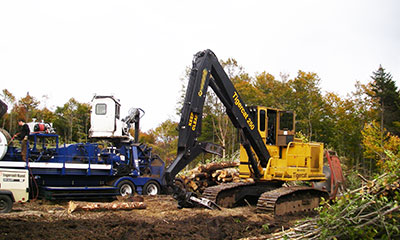 Land Clearing
Paul J. Mitchell provides professional land clearing for customers with commercial area land clearing projects in New York and surrounding states.
There are many benefits to using Paul J. Mitchell's services for your next land clearing project. Land clearing is a necessity for most land developments such as clearing for new homes, clearing for new businesses, site prep for construction and more.
Each job is handled quickly and efficiently by our trained staff. Our goal is to provide the customer with the best solution for the right price and complete customer satisfaction.
Excavating
Paul J. Mitchell's excavating services has access to any equipment needed for your specific job, whether commercial or industrial. Servicing New York and surrounding states, we strive to provide dependable service, quality work, and competitive prices.
From the largest commercial properties to industrial properties, we enjoy and welcome the opportunity to meet clients and work together to obtain their goals. We can take a site from preliminary soil erosion to site clearing, utility installation, land balancing, foundation construction, and final grading.
Our excavating team approaches all projects with the same expertise and excellence!